The best plants and climbers for pergolas in the UK
Pergolas have loads of practical applications, which make them a popular choice for garden renovations. 
However, they also provide a stunning focal point for your garden, and this effect can be amplified by adding plants and climbers that complement the structural design of pergolas while adding a burst of colour and life. 
Whether you opt for a traditional wooden lattice design, slick and modern metal pergola frame, or something in between, it's possible to train plants and climbers to grow on pergolas. The pergola climbers can be used can create additional shade, utilise space in a small garden and even create biodiversity for wildlife to thrive. 
If you're installing your first pergola, or aren't naturally green-fingered, then you might be wondering which climber is most suitable for growing on pergolas. 
So, in this blog, we're sharing some of the best climbing plants for pergolas in the UK, what circumstances they are suitable for plus how to grow them without damaging your garden pergola.  
Climbers are types of plants that cling to and climb up trees and tall structures. In nature this usually involves wrapping around trees and branches, however, this context will include the frame of a pergola. 
Climbing plants are extremely versatile and can be used to add interest to walls, fences and pergolas. There are many plants suitable for growing on pergolas, and exactly which plant will be best for your pergola depends on your location, the size of the pergola and your desired look. 
You'll need to think about what you want for your pergola climbers, and what your garden conditions are like:
Do you want minimal maintenance climbers?
Are you looking for dense climbers to create a shaded seating area?
Do you want the sunlight to be able to shine through still?
Are you looking for an evergreen plant or one that blossoms and flowers in the spring?
Is your pergola in the shade, or the sunlight?
There are so many options, so we'll run you through some of our favourite plants and flowers that will thrive on climbers to help you decide what best suits you. 
SHOULD I GROW FLOWERS ON MY PERGOLA?
One option is to have flowering climbing plants, that will change with the seasons. It's a great way to add colour and vitality to your garden, as well as grow pollinators for increasing life in your garden. 
If you're short of space then this is a great way to add more flowers without taking up too much space in your garden. 
There are quite a few different options for climbing flowers, although these are some of our favourites:
CLIMBING ROSES…
Roses are a very popular choice for pergolas, and for good reason. They create a traditional and romantic rose garden aesthetic and come in a variety of colours and styles to suit whatever you are looking for. 
There are numerous climbing roses that will be suitable for pergolas, including Cecile Brunner, Eden Climber or New Dawn among others. 
As well as being popular due to their aesthetic, they also serve a functional purpose as their long and flexible stems can be easily manipulated and guided up pergola posts.
HONEYSUCKLE…
There are almost 180 different species of honeysuckle and almost all are suitable as climbers for pergolas. They are extremely quickly growing, so can easily cover a full pergola. 
Honeysuckles are well known for their brightly coloured yellow and red flowers with a fragrance that intensifies at dusk. This makes them perfect for outdoor seating areas, as the beautiful aroma creates a relaxing atmosphere, especially as it gets dark. 
In addition, honeysuckles are pollinator-friendly and are a magnet for butterflies and bees, so are great for giving wildlife a place to thrive. 
MORNING GLORIES
If you are wondering: "What is the fastest-growing climbing plant?, then Morning Glories might be your answer.
Morning glories are extremely low-maintenance and easy to grow. You can simply plant them and they will climb up pergolas or trellis themselves, and produce beautiful deep blue or purple flowers. 
They are particularly suited to sunny positions, so if you've got a pergola that is a bit of a suntrap then this is the ideal location for them to grow. 
However, be aware that Morning Glories are dense, leafy and fast-growing, so they will likely create a very shaded area when they grow around your pergola.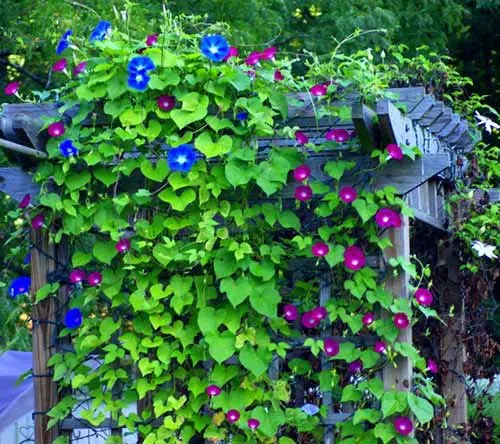 WISTERIA
Wisterias are a popular plants and you might be wondering if Wisterias is good for pergolas…
Wisteria is another fast-growing flowering climber, that can have a dramatic visual impact when fully bloomed, especially when the flowers dangle down off the pergola. 
They grow amazingly well in sunny garden spots and will create a dense, shaded area for your pergola. 
However, not all Wisterias are created equal when it comes to suitability for pergolas.

So, which wisteria is best for a pergola?
The best Wisterias for pergolas will be ones with long flower clusters (racemes), as these will provide a more dramatic display when the flowers hang off the pergola. Japanese Wisteria has the longest racemes, and this comes in purple, pink and lavender depending on which style you'd like to go for. 
There are some downsides to planting Wisteria that you should consider before choosing it as a climber for your pergola. They can take some time to establish themselves, so don't expect an instant bloomer. However, once it does it is particularly fast-growing and requires a lot of pruning to keep it under control or it will overwhelm your garden. 
CLEMATIS
Clematis are a beautiful, low-maintenance plant that will look good year-round in your garden. 
Most Clematis prefer shaded garden areas, although they are robust and aren't too fussy about the condition of the soil they are in. 
What is the best clematis for pergolas?
The best evergreen clematis is Clematis cirrhosa and Clematis armandii, and you could even mix the two if you want flowers all year round.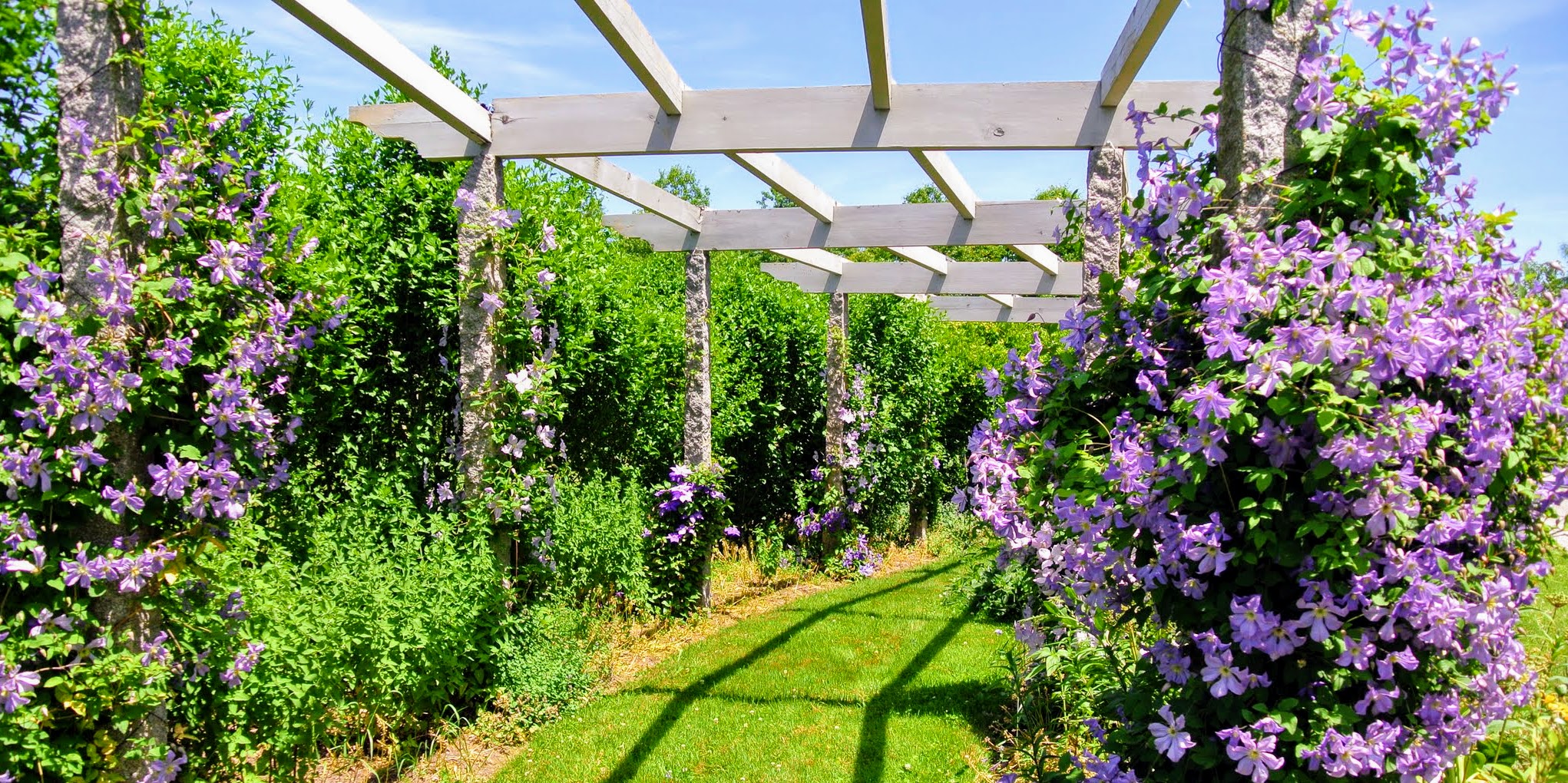 SHOULD I GROW VINES ON MY PERGOLA?
Don't fancy adding more flowers to your pergola? 
Don't worry, flowering plants are the only climbers suitable for pergolas, and there are multiple evergreen plants that can complement your garden pergola. 
Let's look at some of these below. 
GRAPEVINES
Just imagine! You're sitting under a pergola draped in grapevines. It's giving you Mediterranean vibes, but in reality, you're sitting at home in your garden in the UK. 
Grapevines are one of the best climbers and create a quintessential Mediterranean feel which makes them popular for pergolas. They grow best in sunny and warm spots, so they might not be suitable for every garden. 
Grapevines are not flowering, but they are fruit-bearing - and the grapes that they grow can be eaten or used to make jams or even wine if you are feeling capable.
Although grapevines can grow densely to create a shaded canopy, which is perfect for covering a pergola, they can be easily pruned to control the density. 
GOLDEN HOPS
Golden Hops are a fast-growing climbing vine that produces beautiful bright yellowy-green foliage. They can quickly cover pergolas and archways, with one plant covering up to 8m. 
One of the greatest advantages of Golden Hops is that they are particularly hardy and do well in cold climates. In fact, they generally don't do well in warmer climates, which makes them suitable for many locations in the UK that struggle with warmer climate vines. 
CRIMSON GLORY VINE
The Crimson Glory vine is a member of the gape family, however, it does not produce any edible fruits.
It is arguable the most distinctive choice for climbers for pergolas and is a great option if you want your pergola to change with the seasons. The leaves will sometimes be green but will turn dark crimson and scarlet in autumn.
You should position the climber in sunlight for a more intense colour, and it will grow to create a canopy of shade above your pergola.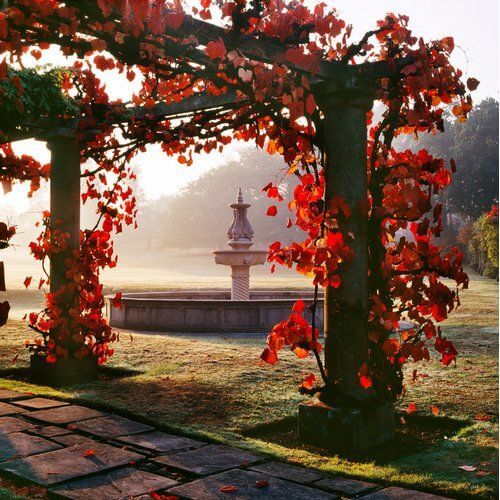 HOW DO YOU GROW CLIMBING PLANTS ON A PERGOLA?
At this point, you might be wondering…
How do you attach a honeysuckle to a pergola?
What is the best way to plant a grapevine?
How do you attach wisteria to a pergola?
If you're new to planting climbing plants onto a pergola then we've got some tips to help you get started.
Firstly, make sure that the frame of your pergola can support the weight of your climbers as they can get heavy, especially when you retain moisture. Pergolas are naturally strong structures, especially if it is maintenance-free material such as aluminium - but it's always worth checking. 
In the case of large pergolas, we recommend that you plant two climbers near the base of each pillar. Ensure that the soil you're working with is of good quality, this can be improved by incorporating compost to increase nutrients. 
Plant the climbers angled towards the pergola frame, and thoroughly water. If necessary you can bridge small gaps between the plants and pergola with small canes or something similar. If you wish the cover the pergola quickly then train the shoots straight up the posts. 
Some denser or heavier plants will require additional support, such as a trellis or light wood to help guide and help the plant climb the structure. 
DO VINES DAMAGE A PERGOLA?
There is the potential for structural damage if the pergola cannot cope with the weight of the plant. So you must ensure that your pergola is made of a strong material that can withstand the growth of vines.
This is more of a concern if your pergola is made of wood, as it will need continually treated otherwise it will rot and break under the weight of moisture. 
Weather-resistant wood or alternative materials (such as aluminium) should be able to withstand the weight and will not be damaged by vines assuming you are pruning and maintaining the plants as necessary. 
READY TO BUY YOUR OWN PERGOLA?
Adding climbers for pergolas can create a stunning focal point in your garden, as well as increase biodiversity and a place for wildlife to flourish. 
We've covered some of our favourite climbers, that grow beautifully on pergolas and offer a variety of styles, densities and maintenance levels. Assuming your pergola is high quality it should be able to bear the weight and act as a supporting structure. 
Regardless of what you are looking for you can find a climber that is suitable for your pergola. 
Check out what pergolas we have on offer here, and see if you can find a suitable one for your needs.